Welcome to Billiton Hotel & Klub
Billiton Hotel and Klub is a modern expression of comfort and style inspired by the Indonesian heritage of Belitung Island, the crown jewel of Belitung historical buildings.
Blessed with clear blue sky, sterling white quartz beaches, and fenced with unique shape of stones, the Beach Club at our private island in Kelayang Island awaits you to explore the magnificent Belitung.
Billiton Hotel & Klub is truly home in the heart of an island.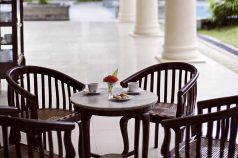 Billiton Hotel & Klub provides free facilities for you to spend your day at the hotel. Whether you want to...