Heritage Boutique Hotel
Billiton Hotel is situated in the most prestigious area in Belitung, boasting a warm and serene atmosphere in the heart of the city.
Inspired by Dutch Colonial style building, it is presented as a unique establishment revealing a historical assemblance between three distinctive era and culture, the Chinese, Dutch and Indonesian.
Tracing back to the 18th century, it was initially built on the city's most center point, as a temple complex for the Chinese descendants to pray.
Rich in pepper and historically known for its tin resources, during the Dutch occupation, a town hall was built adjacent to the temple as a 'societeit' or recreational spot for the mine workers where opera, dances and other musical performances were once held.
Billiton Hotel Belitung is a modern expression of comfort and style inspired by the Indonesian heritage of Belitung Island, the crown jewel of Belitung historical buildings.
The hotel features spacious room and suites, starting from 39 sqm to 77 sqm and guest leisure activity including the outdoor swimming pool. Our friendly and professional staffs are available 24 hours a day to make your stay more comfortable.
Blessed with clear blue sky, sterling white quartz beaches, and fenced with unique shape of stones, the Beach Club at or private island in Kepayang Island awaits you to explore the magnificent Belitung.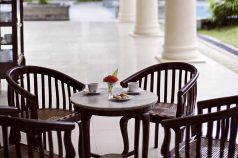 Billiton Hotel provides free facilities for you to spend your day at the hotel. Whether you want to spend the...